HEADMASTER'S BLOG
Following a recent trip to China, the Headmaster considers the pace of change in our world and educating our pupils to 'successfully embrace change'.

"The educational focus on artificial intelligence and the technological wizardry on display in Shanghai suggests a rather frightening pace of change. All schools will need to adapt to the demands of this digital/technological revolution."

To read in full, please click here.
ENGLAND LIONESS MILLIE BRIGHT OPENS
ROSSALL SCHOOL'S NEW SPORTS CENTRE
We were absolutely delighted to welcome England Lioness and Chelsea FC defender, Millie Bright, to open our brand new Sports Centre.
Read the full story here.
NEW AND IMPROVED PARENT PORTAL
For parents of pupils in Year 7 to Year 13

Rossall School has a new Parent Portal that will allow you to access a variety of information specific to your child or children.

You will be receiving an activation email to log in to the portal within the next 24 hours. From the portal you will be able to view this term's Grade Cards.
If you have any queries relating to activation or login, please email Miss Kirstie Allen: k.allen@rossall.org.uk
FLEETWOOD MUSIC AND ARTS FESTIVAL
41 of our pupils took part in the annual Fleetwood Music and Arts Festival. We came away with lots of trophies and certificates but most importantly, the children had a fantastic time and gained valuable experience.
For a full list of winners, please click here.
BRONZE DUKE OF EDINBURGH
Congratulations to the following students on completing their Bronze Duke of Edinburgh Award: Harriet Clough, Ellie Qualter, Grace Gordon and Jennifer Donnelly.
ORGANIST TRIP TO LIVERPOOL
Our budding organists had a fantastic day on Tuesday, visiting Liverpool Cathedral and Liverpool Metropolitan Cathedral where they played the organs and participated in workshops. The day was topped off with an inspiring recital at St George's Hall, Liverpool. A big thank you to all the venues for their extremely warm welcome and for giving our students this opportunity.
CCF FIELD DAY
The CCF hosted their first Field Day of the year on Thursday, with the cadets competing in 6 challenges throughout the day. There were some fantastic displays of teamwork and leadership in archery, paint-balling, airsoft target shooting, casualty simulation tasks, physical challenges and command tasks. With only one point separating first and second place it was Section 6 who were the champions of the day!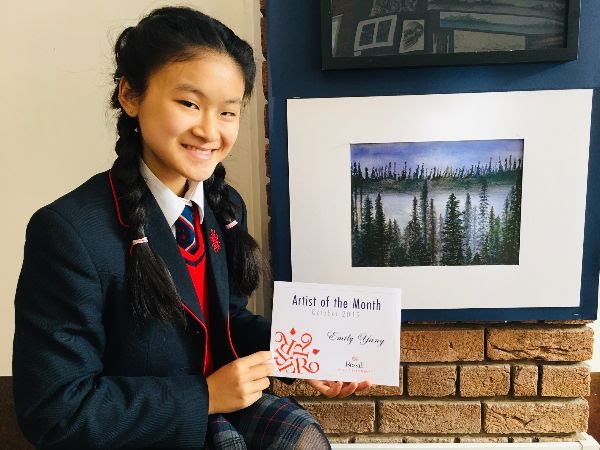 ARTIST OF THE MONTH
Year 11 student, Emily Yang (Rose) has been awarded 'Artist of the Month' for October. She has demonstrated excellent observational skills in her coursework project, based on 'Wildlife', and has incorporated drawings of wolves, foxes, deer, hare and their forest environment, which will all lead to her final piece due to be completed next half term. Her attention to detail is meticulous and she has produced some exquisite studies. Emily is an exemplary student who always tries her best to succeed, attending the Art Department frequently during her free time. She is always enthusiastic about the subject and has given of her best throughout this project, demonstrating much commitment and dedication to her work. Well done, Emily!
ART DEPARTMENT UPDATE
The Art Department has had a busy first half term with lots of new displays, including Year 7 Vincent Van Gogh work in oil pastels, and Year 8 work of Turkish Tiles, including mono-printing, mirror repeat designs and watercolour painting.

Students from a range of age groups attend the Department after school and at weekends, where they can use the facilities to continue with their work. They are currently producing some truly accomplished pieces of work including silk paintings, large scale ceramic sculptures, still life paintings and portraits. We very much look forward to this excellent work going up on display as part of their exhibition, later in the school year. Well done to all of our artists - keep up the good work!
On Wednesday evening, several students performed an eclectic mix of pieces ranging from Bach to Radiohead to exciting monologues and duologues. It was lovely to see so many supporters who thoroughly enjoyed sharing in the students' talents. Our next showcase will take place on November 20th at 7.00pm in the Museum Theatre. Please do come along and support.
NATIONAL POETRY DAY
A select group of Year 12 English students proudly presented an assembly on National Poetry Day. Fernando Betancourt Barreiro, Sofia Deplidge, Can Ercivan, Johannes Gerstein, Sidney Hankinson, Ohad Haviv Buck, Ella Rosenthal, Zenith Subba and Joseph Warick wrote recreative poems inspired by the poem 'National Trust' by Tony Harrison which they had studied in class. In light of studying this poem, with its belief that "the tongueless man gets his land took", i.e. those who don't speak up for themselves/others can often suffer tragically grave or dire consequences; the poet laureate Simon Armitage's belief that "poetry is a form of dissent", and this year's National Poetry Day's theme being "Truth"; the students wrote poems speaking out their "truths" on behalf of unfairly treated or oppressed groups of people who need to be spoken up on behalf of.
To view their presentation, please click here.
SIXTH FORM OPTIONS EVENING
Thursday 7th November 2019
6.00pm to 8.00pm

Year 11 pupils and parents are invited to our Sixth Form Options Evening.
Find out more about the A Level, IB and BTEC options available at Rossall and have your subject choice questions answered.

Please click here to book your place.
In the first half of the concert, Fleetwood Choral Society and Rossall Chapel Choir will join forces to perform one of the most difficult and exciting works within the choral repertoire, Belshazzar's Feast by William Walton, accompanied by the 42 strong orchestra, Sinfonia North West. The second half is much more light-hearted with the Youth Choir performing songs from the shows before all of the ensembles combine forces to perform some huge choral greats including Zadok the Priest, Anvil Chorus and The Chorus of the Hebrew Slaves. The evening will conclude with the Last Night of the Proms favourites including Rule Britannia and Jerusalem. This will, undoubtedly, be a most exciting and invigorating evening and tickets are selling fast.
To purchase tickets please contact the Director of Music, Miss Young:
m.young@rossall.org.uk
The Youth Choir is always welcoming new members, aged from 6; if your son or daughter would be interested in joining us then please contact Miss Young on m.young@rossall.org.uk. Our next workshop will be taking place on Sunday 27th October from 1.00pm-4.00pm in Chapel.
G4 RETURNS TO BLACKPOOL
Old Rossallian, Lewis Raines (JS & MC 96-08) is returning to his home town of Blackpool with his band, G4 for their national tour. The band will be performing at Blackpool's Tower Ballroom on Thursday 12th December, and members of the Rossall community can benefit from 10% off tickets. To book your tickets, please visit: https://events.ticketbooth.eu/event/g4-christmas---blackpool-tower2019 and enter: rossall10 to receive your 10% discount.
SPORTS FIXTURES AND RESULTS
For the latest sports fixtures, results and reports, please visit: www.rossallsport.org.uk

PLEASE NOTE, THE NEW PASSWORD FOR THIS IS:
rossallsport (ALL LOWER CASE)
DATES FOR YOUR DIARY
Monday 4th November - School Resumes at 8.15am
Wednesday 6th November - Human Universe Lecture at 7.00pm (Venue TBC)
Thursday 7th November - Sixth Form Options Evening at 6.00pm (Venue TBC)
Friday 8th November - Farrell Society at 6.30pm (Venue TBC)
Sunday 10th November - Remembrance Service at 11.00am (Chapel)
Tuesday 12th November - Sixth Form Taster Day
Thursday 14th November - Year 7 Parents' Evening at 6.00pm (Big School)
Saturday 16th November - Last Night of the Proms at 7.00pm (Marine Hall)
Sunday 17th November - Choral Evensong at 6.30pm (Chapel)
Tuesday 19th November - Human Universe Lecture at 7.00pm (Performing Arts Studio)
Wednesday 20th November - Performing Arts Showcase at 7.00pm (Venue TBC)
Thursday 21st November - Year 10 Parents' Evening at 6.00pm (Big School)
Friday 22nd November - Choir Concert at 5.00pm (The White Church, Lytham)
Tuesday 26th November - Guest Speaker: Bishop Philip North: "You are wonderfully made - a Christian perspective on the uniqueness of humanity" at 7.00pm (Chapel)
Wednesday 27th November - School Play: 'The Government Inspector' at 7.30pm (Thornton Little Theatre)
Thursday 28th November - Year 8 Parents' Evening at 6.00pm (Big School)
Thursday 28th November - School Play: 'The Government Inspector' at 7.30pm (Performing Arts Studio)
Friday 29th November - School Play: 'The Government Inspector' at 7.30pm (Performing Arts Studio)
Saturday 30th November - MF MADD Night at 7.00pm (Big School)
Sunday 1st December - Choral Evensong at 6.30pm (Chapel)
Thursday 5th December - Year 13 Parents' Evening at 6.00pm (Big School)
Sunday 8th December - Family Carol Service at 5.00pm (Chapel)
Monday 9th December - Pantomime: 'Cinderella' at 7.30pm (Big School)
Tuesday 10th December - Pantomime: 'Cinderella' at 7.30pm (Big School)
Thursday 12th December - Year 9 Parents' Evening at 6.00pm (Big School)
Friday 13th December - End of Term at 12.30pm
Sunday 15th December - Choir to sing at Carol Service at 4.00pm (Staveley-in-Cartmel)
Sunday 21st December - OR Carol Service at 5.30pm (Chapel)
Wednesday 25th December - Christmas Day Service at 9.15am (Chapel)